Learn at Your Own Pace
---
All in your own time, at your own pace – a step-by-step method to baking beautiful, nutritious sourdough bread every time.
Detailed Tutorials
---
This all-encompassing course, gives you everything you need to know in a perfect blend of video and written content.
Made for Beginners
---
Perfectly suited to beginners & to those who are curious about making sourdough bread & want to give it a go!
Have you tried (unsuccessfully) to make your own sourdough bread?
---
Did you bake a brick? We've all done that starting out! It's so annoying when it doesn't work, I know - I've been there myself!
Trying to figure it out on your own is a real challenge...
---
The struggle is real, and it can be so frustrating when things just don't seem to go right, no matter what you do... Do you want to learn how to get it right? Every single time?
Take Your Sourdough
to the Next
Level!
---
Sourdough as Superfood
By eating Sourdough with its naturally-occurring yeast culture, you're helping to promote your own good gut health. You'll never want to go for the sugar-stuffed, additive-laden, preservative-packed, flavour enhancer-filled commercial breads again.
The days of having to settle for pricey 'Sourfaux' are over
Why settle for the often overpriced 'artisan' loaves from the bakery every week? (often masquerading as genuine Sourdough) when you can learn how to make the real deal right here, right now!
And If That Wasn't Enough...
Once you've got this fool-proof Sourdough method down, you'll be a veritable dough pro! But It doesn't stop there! You will have the option to continue progressing with the Level 2 Course in Rachel's Sourdough School (coming soon): including pizza; focaccia; crackers; pancakes; naan breads; filled & flavoured breads as well as the exploration of how to use different flours.
Introducing...
How to Make Really Good Sourdough Bread for Beginners
---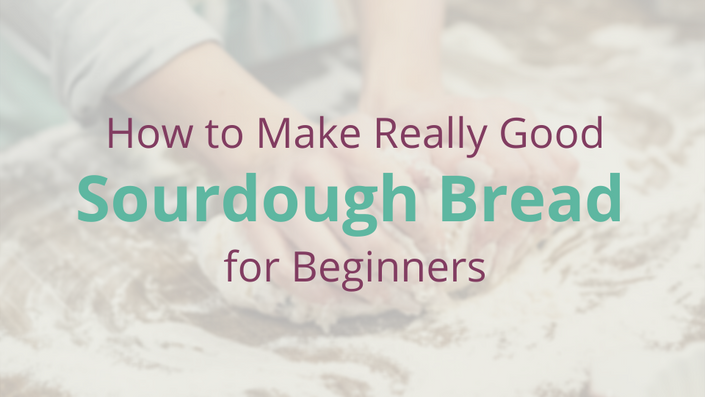 Welcome to Sourdough Success School – your own one-stop, step-by-step Sourdough-Making Course that will give you everything you need to get your Sourdough skills up to standard and be a Sourdough Pro in next to no-time.
• It's a traditional Sourdough-making method as taught to me by a master baker.
• It's simple and effective (with no kneading needed) and requires zero baking skills.
• You don't even need any special equipment you can just improvise with what you probably already have in your kitchen!
• Learn how to speak like a baker with a glossary of sourdough terms included
• Learn how to get the best results baking in your own home oven
• Learn how to best incorporate sourdough making into your weekly routine
5
Delicious Sourdough Recipes
42
Step-by-Step
Video Tutorials
9
Detailed, Informative Modules
Here's What You'll Learn When You Enroll
---
The Health Benefits
In this module, you'll learn...
Nutritional Highlights about gut health & the benefits of sourdough to your overall digestive health.
The Starter
In this module, you'll get...
Access to my FREE course (how to make a sourdough starter) + lectures on how to activate your starter, how to maintain your starter, and more.
The Common
Loaf Recipe
In this module, you'll learn...
My master recipe & technique to bake delicious sourdough bread every time.
Sourdough
Bread Rolls
In this module, you'll get...
An additional recipe & alternative use for the master recipe.
The
Ingredients
In this module, you'll get...
A comprehensive list of all the ingredients I use & supplier links where to source them.
The
Equipment
In this module, you'll learn...
The right tools can make all the difference! I have included all the basic kit I use PLUS the wish list stuff you will want! + supplier links where to source them.
The
Bonus Recipes
In this module, you'll learn...
Two additional Bread Recipes introducing different flours & methods to try after you have mastered the common loaf recipe. I have also included the recipe for my almond butter which is delicious on sourdough bread!
You'll also get access to
THE SOURDOUGH CLUB
---
The Sourdough Club is our exclusive Facebook group where members can ask questions, get help with any challenges they're facing, and post photos of their bread.
There'll also be plenty of members-only equipment and ingredient recommendations, tutorials, and more, and Rachel will always be on hand to offer ongoing help, support and fanatical cheering from the Sourdough side lines.
Stories From Our Satisfied Students
---
"Dear Rachel, I'd like to add my own tribute to your teaching and my endless gratitude for passing along the incredible gift for making great bread with minimum fuss or pretentiousness.
I've been making bread following your method every single week since I did the course with you back in January. I started with two loaves and then found another Pyrex bowl in my local charity shop for €4 and then started to make three loaves weekly, adding things - seeds, nuts, dried fruits and figs, using different flours mixed in - spelt, granary, malt, rye. Then I bought a banneton and started to make four loaves weekly baking one in my ikea cast iron pot. Shortly after I found another Pyrex bowl - yep - €4 in the charity shop!! Now I make five weekly.
Throughout the lockdown and beyond, I give loaves, half loaves and quarter loaves to neighbours; the secretary at work who posts me a photo of her sourdough toast with eggs, avocado, spinach etc etc that she enjoys for breakfast the following morning; my brother in Creve who has a passion for my fig and walnut; my sister in Manchester to whom I post a frozen loaf and she receives two days later, has some with her soup for lunch and refreezes the rest to enjoy later in the week; to my son in Denmark who devours it in one go with his Danish roommates over a Danish outdoors garden smorgasbord; my pals at the allotments including Angela the German midwife and Rosanne Irish dancing teacher who I have also passed a bit of my "mother" to and have subsequently successfully been making their own bread.
Here following are my five loaves for this week: 2 malted wheat, 2 wheat + spelt, honey and walnuts, and 1 wheat + rye. Thanks so much. Xx"
---
Carol Owens
"Before doing Rachel's course on sourdough bread making, my only taste reference for sourdough bread was mostly store bought. It is amazing how incredible the taste of something can be, using only 3 or 4 ingredients, when it is done correctly.
Rachel's course is amazing and give me a true insight into how artisan and authentic sourdough bread can and should be made. During lockdown, I made 2 loafs every 3 days. One for me and one for my sister a few doors down. She was delighted to get fresh bread out of the oven twice a week as was I. You take great satisfaction in being able to make something packed with flavour and goodness.
This course went into the 'lifetime skills' bag for me :) Something I will always be able to do with confidence no matter where I am. A huge thank you to Rachel for passing on her knowledge and passion."
---
Marcus Fearon
"Making my own sourdough bread is something I've always wanted to try but I was always put off at how complicated it seemed. Rachel's explanations were so thorough that I finished the class confident I'd be able to make successful bread right from the beginning and I wasn't wrong.
The first bake turned out perfectly and I've made successful bread ever since, in fact I don't think I've bought a loaf of bread from the shops since taking the class!
There's nothing quite like freshly baked homemade bread and it's good to know it's something that's also going to benefit my health in the long term too. Thank you so much, Rachel!"
---
Camille Farrar
Frequently Asked Questions
---
Have any questions? Here are some answers! If you can't see the answer you need, you can also email me.
You have lifetime access to the course material!
My course requires zero baking skills! I have made the process easy to follow with both written instructions & video tutorials of every step of my master recipe.
The BIG BONUS of taking my class is my private Facebook group – The Sourdough Club – to which I will add you into after the class for continued ongoing support! It's a place for asking any questions, sharing tips & posting photos of your lovely sourdough bread!
No problem! If after 30 days you really feel sourdough is not for you, I am happy to refund you no questions asked!
Benefits of Enrolling in This Course
---
The Health Benefits
As a Nutritional Therapist I am acutely aware of the benefits of good gut health. Eating real sourdough bread, that contains a naturally occurring yeast culture, has so many benefits for our health, in comparison to commercially produced breads, which often contain many additives, preservatives, dough conditioners & flavour enhancers not to mention SUGAR!
As a Medicinal Chef, I teach the traditional art of sourdough making. This is the method I learned from a master baker & can now pass on to you!
The Ongoing Support
Every student who completes the course, will be added into my private Facebook group – The Sourdough Club – which will provide you with ongoing help & support, as well as additional tips & recipes & likely fanatical cheering when you post photos of your bread!
Certificate of Completion
Everyone who takes the course will also receive a Certificate of completion.
each recipe is also available to download & print
BUY STARTER!
Here is my Sourdough Starter which I have dehydrated & blitzed to a fine powder. It can be easily re-hydrated & activated to bake delicious sourdough bread. I can ship this to you. This would be helpful if you'd like a back-up or you could also add it to your own homemade starter, once its established, to strengthen it.
Just Select This Option at Enrollment Below & I'll Send it Straight Away!
Why not also enroll in my FREE course:
HOW TO MAKE A SOURDOUGH STARTER
---
Your step-by-step method to successfully make a lively, bubbly starter that will result in delicious sourdough bread! Learn all about what a starter is, how to make your own, and how to maintain your starter once you've made it. The better the starter - the better the bread!